CANAL CITY
Urban waterways can serve many purposes, from transportation to social to environmental.
The efficiency of transporting materials and products to and from waterfront locations has turned many urban waterfronts into areas of industry. As a result, those waterfront spaces have often become polluted or inaccessible to the public. New concepts for urban waterways still take advantage of their potential for transport of people and goods, but also reclaim them for the public and the environment by rebuilding them into clean spaces that are enjoyable to use for travel, socializing, and recreation.
The Canal City has a long history of living with and appreciating the benefits of its waterways, but is keen to embrace innovation and encourage a green revolution that celebrates the ability of canals to improve the quality of life for residents.
Vote For Your Favourite Below
Hydro-Link
Bridge
ALAO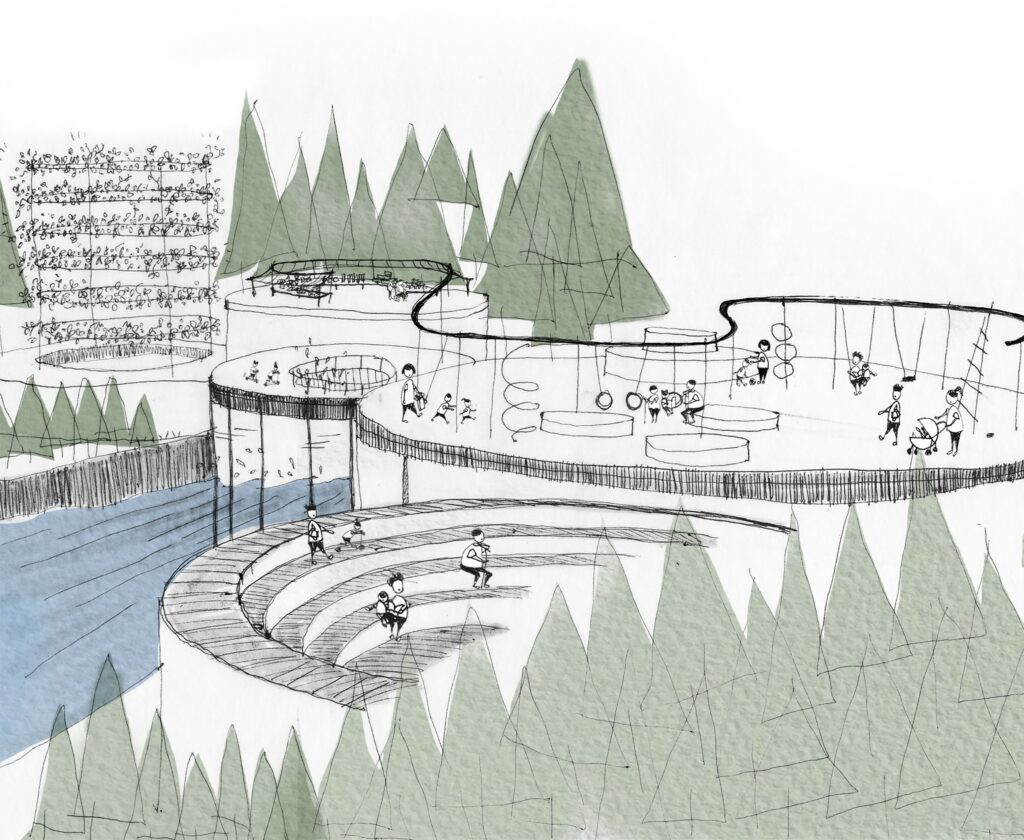 Hydro-Link bridges between the canal district's agrarian exurbs and downtown. It is a meeting point for performance, play, and power in the forms of: an AmpiPool – a theater for water ballet, playgrounds that generate power and fun through the flow of the water, and a hydroponic community garden.
ALAO is an award-winning architecture & interiors practice working at the intersection of Design and Social Advocacy. We approach each commission with a humanist approach to design – one that puts people, communities, and happiness first. We believe that architecture is a social act that can empower and enrich our lives.
Case study: Pasig City Parks
Pasig City Parks is a new network of floating parklets along the edge of Pasig River. These floating parks will return a historically river community to the riverfront, add new parklands for underserved communities, and create an infrastructure for riparian restoration including habitat for local flora and fauna along the water's edge. Each park is comprised of a collection of smaller parklets. The specific programming of each park cluster will be coordinated with the adjacent communities and their needs.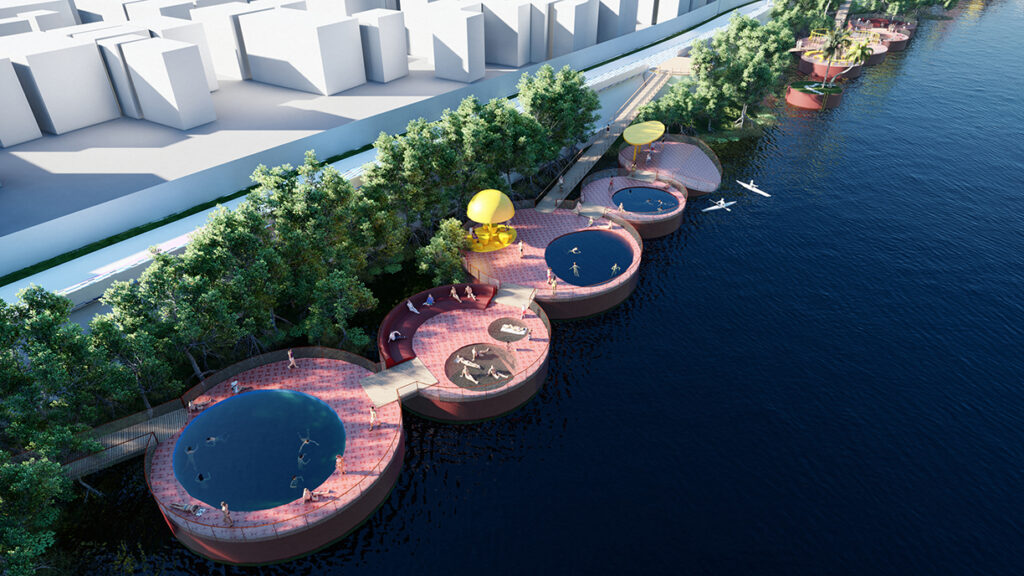 Marsh-Meadow Bridge
Bridge
Marvel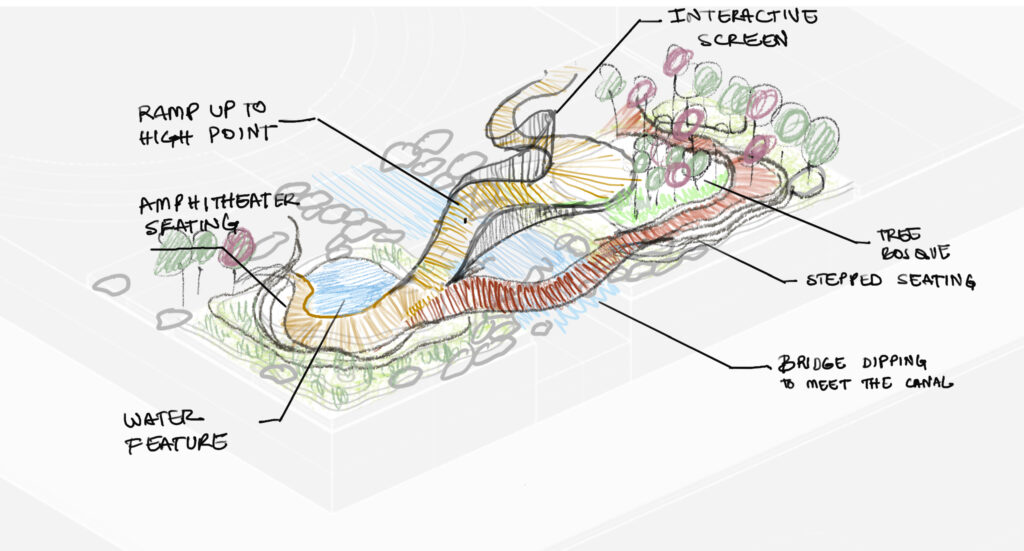 Marsh-Meadow Bridge connects two marshy sites that are separated by the canal. It is a destination from which you can appreciate the marshy landscape which is composed of topographic gingerbread slices with marshmallow edges that interact with the water.

For over 30 years, Marvel has successfully navigated the art and business of architecture and landscape architecture and earned an award-winning reputation for designing at the intersection of public and private space. Our community-based approach has been recognized by over 135 industry design awards, including the AIA's highest honors.
Case study: Bronx Point
Bronx Point is a waterfront landscape surrounding a mixed use and affordable housing development on the Harlem River and an extension of Mill Pond Park, a project previously completed by Marvel. This project substantially expands Mill Pond Park and creates a new publicly-accessible open space along the Harlem River waterfront and around a new affordable housing building with retail and community facility programming at the base. The open space includes a new waterfront promenade that integrates flood mitigation measures, a children's play area and a plaza at Exterior Street that will serve as a gateway and further connect the park to the surrounding neighborhood.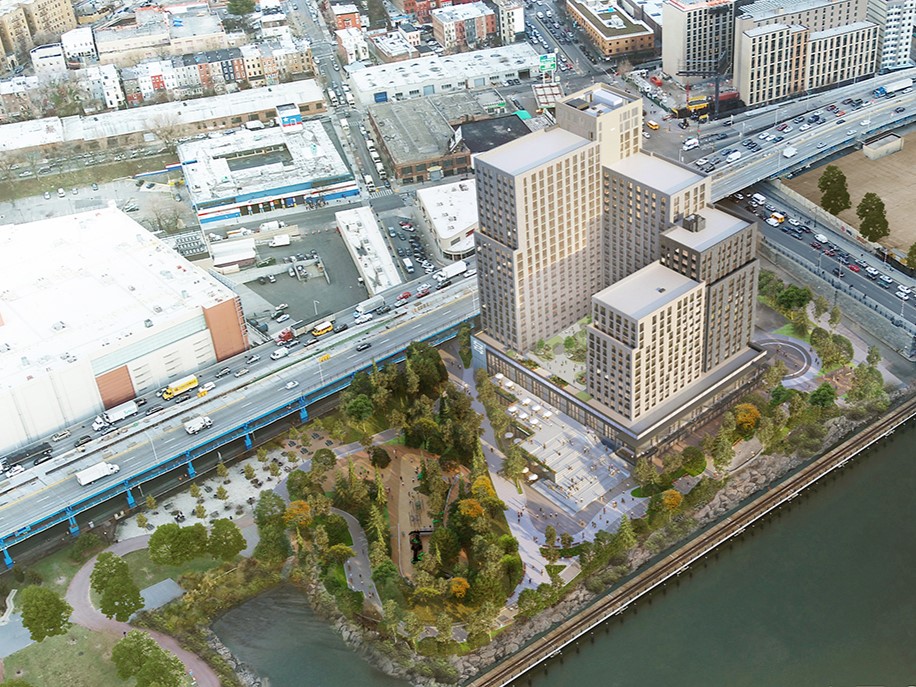 www.marveldesigns.com

@marvel_is_design

S.S. Gumball
Houseboat
Jenny Peysin Architecture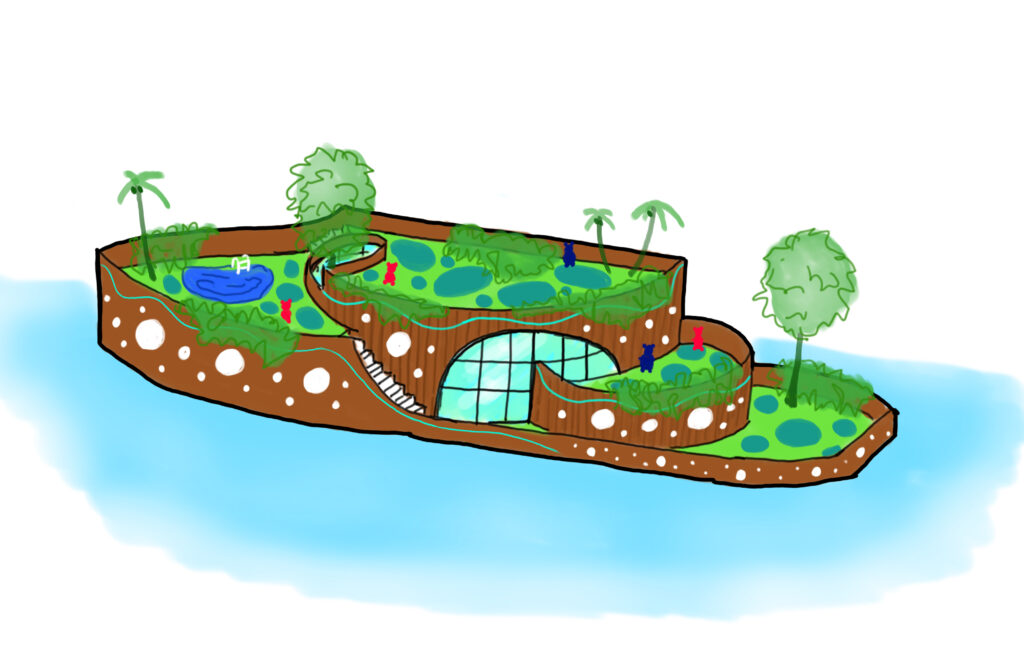 Welcome to the S.S. Gumball! This houseboat is a sugary paradise, featuring a delicious design focused on circumnavigating climate change. Marshmallow portholes, licorice railings, and peppermint spirals adorn the exterior. Inside, circular windows frame breath-taking views, while lollipop garden decks add a sweet touch to your stay.

Jenny Peysin Architecture is a Brooklyn-based, full service, architecture and design firm with a focus on Passive House construction and sustainability. Rooted in modernist philosophy, our process brings light, natural materials and clarity of detail to every scale of the project. We believe that thoughtful design creates timeless value.
Case study: Windsor Terrace Passive House
Nestled in Brooklyn's flood-prone Windsor Terrace, this extraordinary Passive House features an elevated main floor, providing both safety and serenity for its residents. Its contemporary design seamlessly integrates with the eclectic character of the neighborhood, as well as employs a minimal ecological footprint. Compliant with the rigorous Passive House Standard, it showcases a robust thermal envelope, triple-glazed windows and an advanced heat recovery ventilation system, ensuring year-round comfort. Additionally, rainwater harvesting and solar panels exemplify its owners' dedication to environmental stewardship. This Passive House symbolizes a sustainable beacon amidst an uncertain future, offering a blueprint for conscientious living.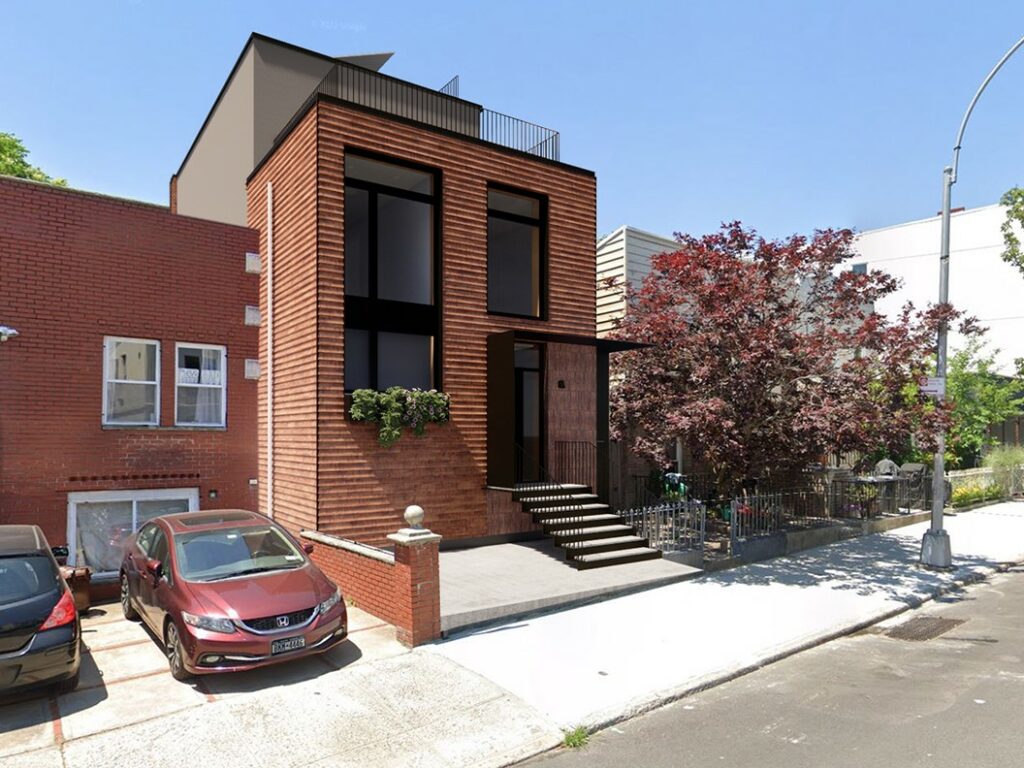 Sugar Lake Opera
Grand Hall
MG2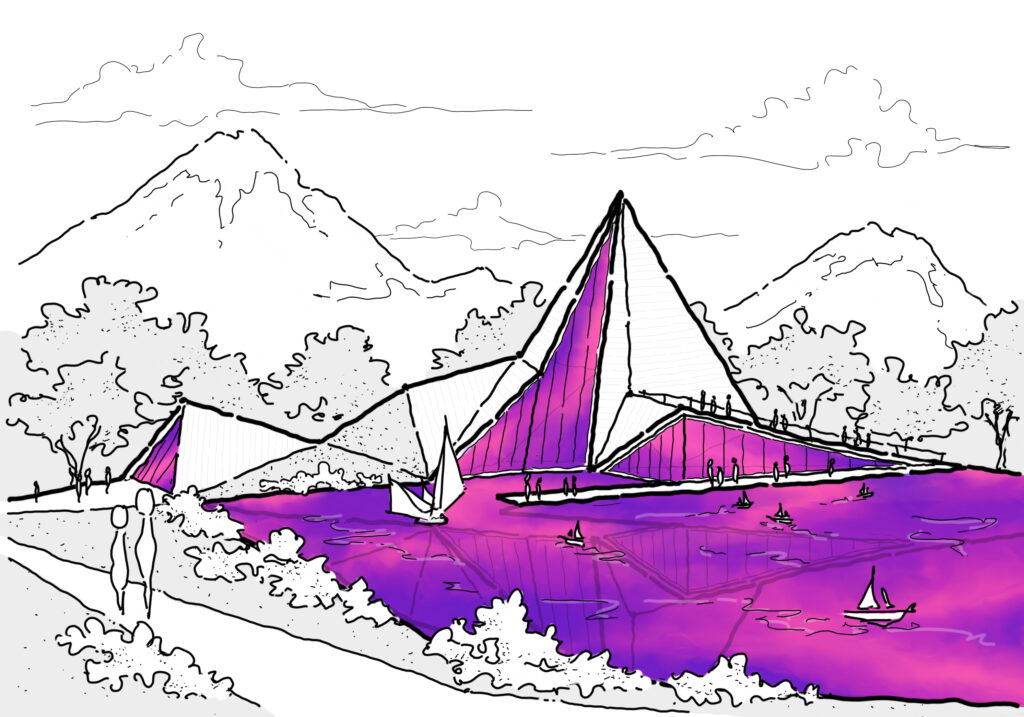 The Sugar Lake Opera grand hall rises from the landscape in a series of faceted planes and is reflected in a lake of sugar. Hosting operas, concerts and ballets, the building serves as a cultural hub and its accessible roof creates a public plaza looking out over the water.

With offices in six major cities, including New York, Seattle, and Shanghai, MG2 is a global architecture and design firm that partners with the world's most recognizable companies to bring exceptional projects to life. New York is home to MG2's experts who specialize in projects that span experiential retail, office, mixed-use, multifamily, industrial, and hospitality.
Case study: International District Tower
Poised to become the gateway to Seattle's International District, this competition entry is a mixed-use property for intergenerational and multi-cultural users. Designed to support a safe, vibrant, 24/7 neighborhood, the project embodies local history and culture, while simultaneously elevating and helping strengthen the bonds of the community. Despite being known for its rain, the city of Seattle is in a drought for progressively longer durations of the year as the climate has changed. Similar to most major cities, this is combatted through regulations for on-site water conservation and stormwater management practices, which include green roofs and rainwater detention tanks.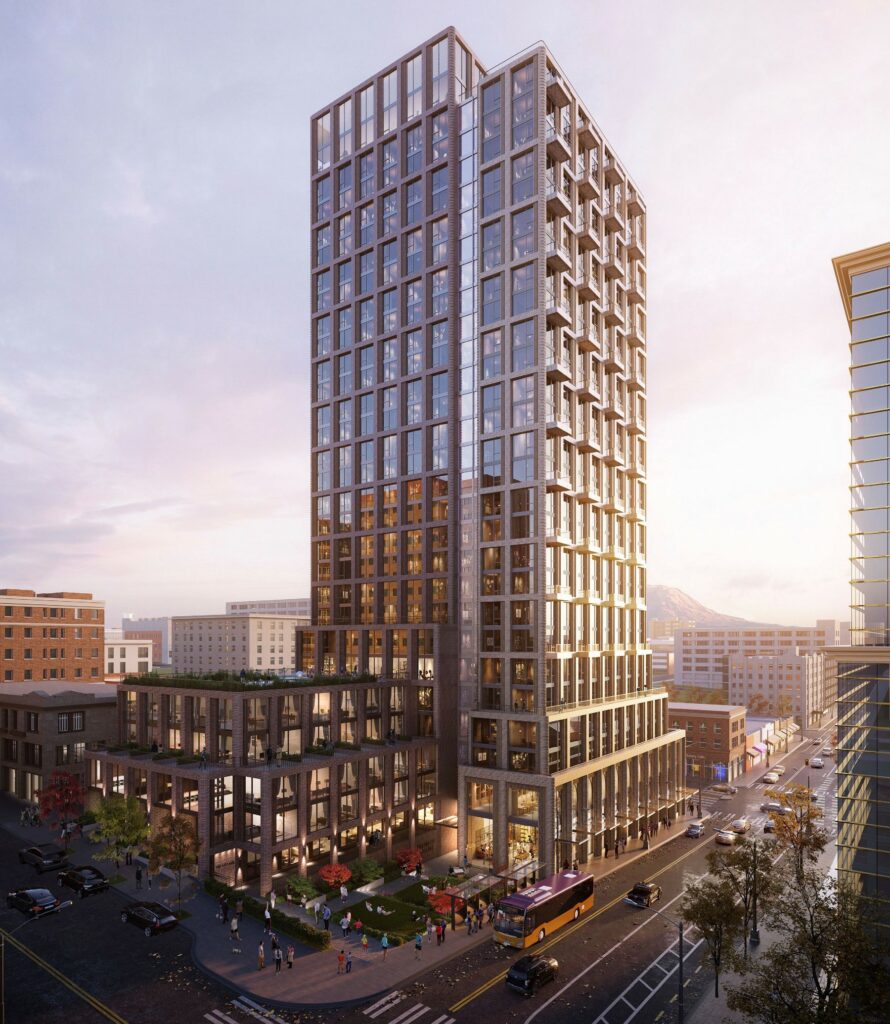 Sweet Temptations Urban Farm
Farm building and public space
RKTB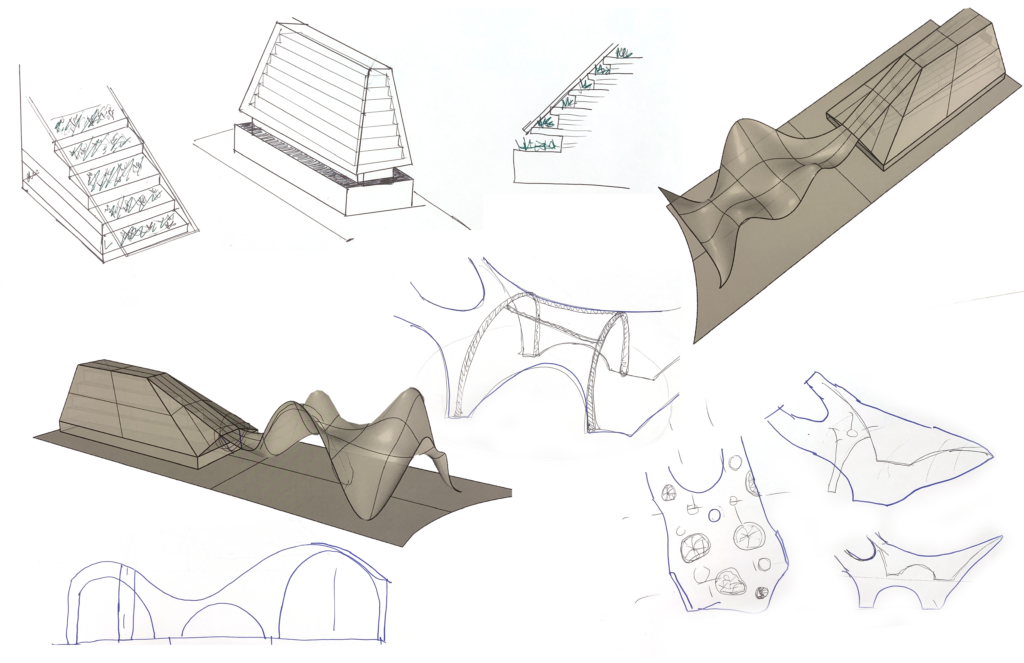 Sweet Temptations Urban Farm consists of an urban-farm building and public canopy-covered space. The farm building's form is inspired by terrace farming, with the canopy flowing from it like mist off a mountain. From there, our canopy takes on a more organic form cascading over a public market and eatery.

RKTB regards architecture as a social art with a responsibility for improving the lives of all people. Our ongoing mission has led us to focus on the design of affordable housing, public schools, and adaptive reuse projects. We are dedicated to shaping our clients' built environments for years to come.

www.rktb.com

@SPPARCArc
The HIVE
Public Space
Vocon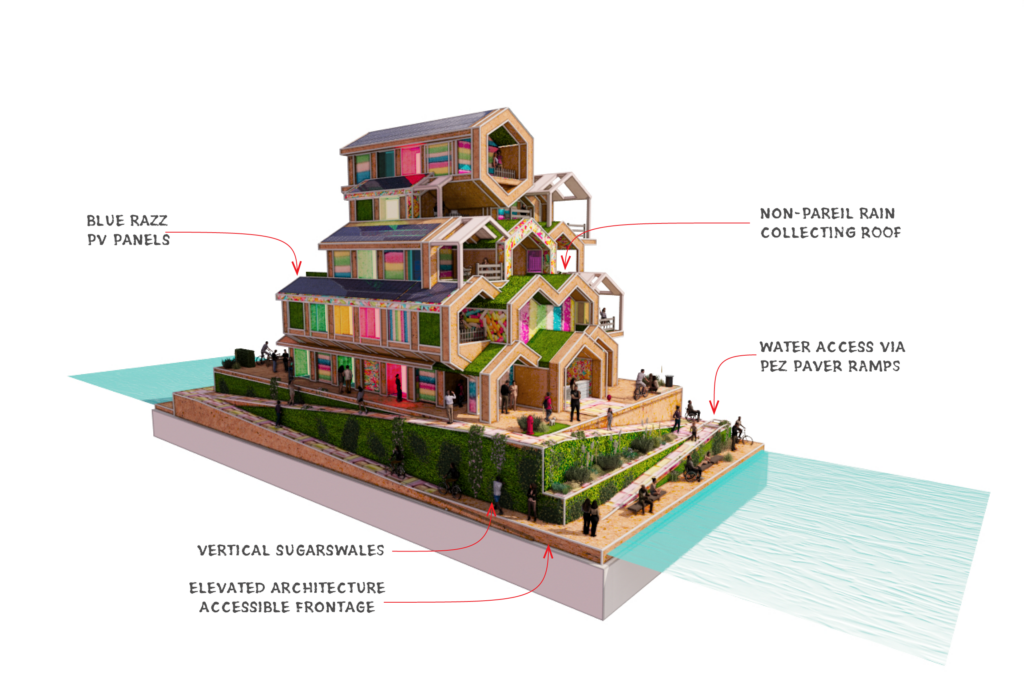 The HIVE is where all the ginger buddies gather to share their creative energy. It's the buzzy hub where dreams come to life. Everyone knows the HIVE is the birthplace of great ideas that radiate out to the rest of The Gingerbread City and beyond.

Established in 1987, women-owned Vocon is an architecture and interior design firm dedicated to personalized client service. We see the workplace within a greater context and recognize its impact on people, immediate surroundings and the environment. Vocon is committed to the planet's future, adhering to corporate responsibility best practices, and utilizing sustainable design principles throughout our projects to reduce negative impacts on the environment and improve the health, comfort and safety of building occupants.
Case study: 540 Madison
The designated amenity space on the eleventh and twelfth floors of 540 Madison presented a unique challenge. The Vocon team pushed boundaries and re-imagined mechanical space as a "hidden stair" that would connect the two floors, adding to the overall tenant experience. Also, rather than removing the existing water tower on the twelfth floor, the design team decided to restore and incorporate this "old New York" feature. Consequently, the 540 Madison Avenue amenity space was named "The Water Tower Lounge" and features a comprehensive mix of luxury amenities.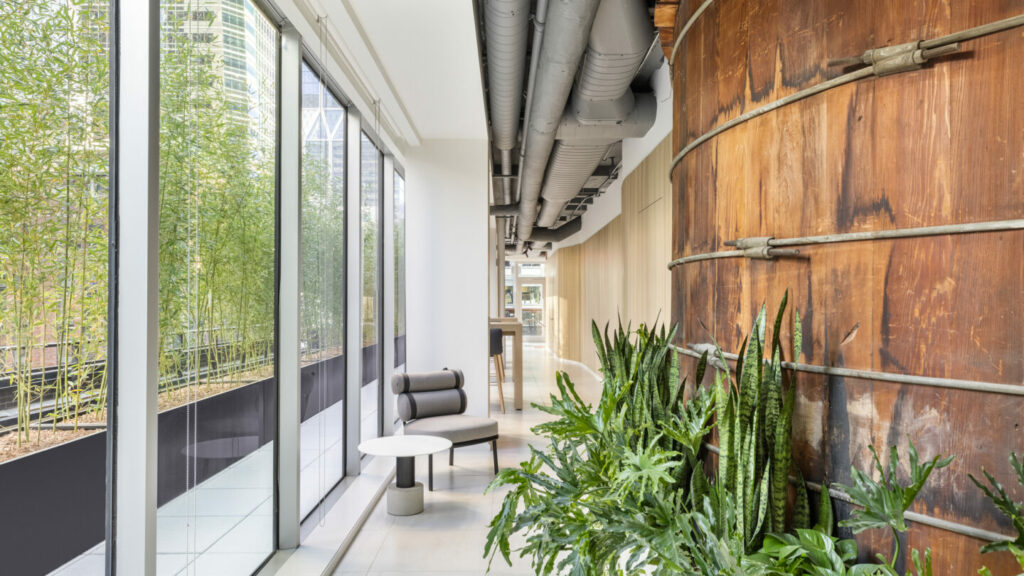 The Living Bridge
Pedestrian bridge
Lorraine Bonaventura Architect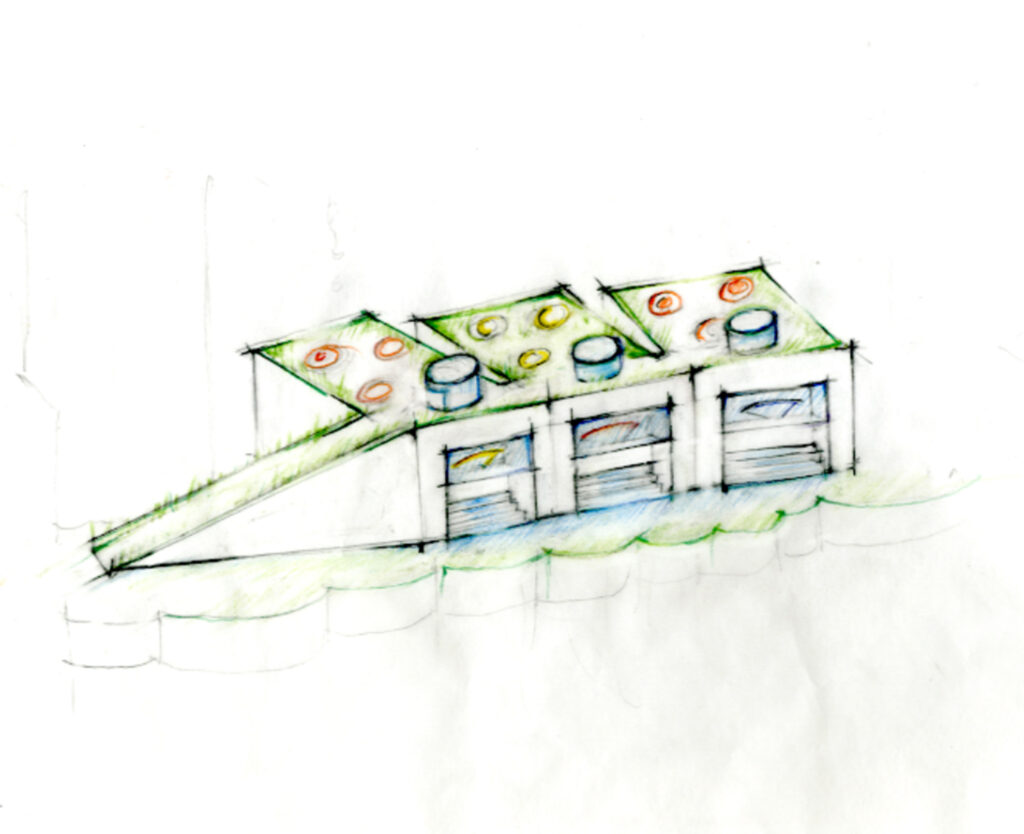 The Living Bridge is a cable stay pedestrian bridge with a central structure for housing and a gathering place for the public.
Lorraine Bonaventura Architect is an architecture, interior design, and preservation practice established in 2004. Bonaventura has designed award-winning residential and commercial projects throughout the New York area, receiving Design Awards from the AIA, NYC&G, and Remodelista. Her projects have appeared in the NY Times, WSJ, Interior Design, Interiors, & Remodelista.

www.bonaventuraarchitect.com

@lorriebonaventura
The Reflective Oasis: A Library of Knowledge, a Mirror of Society
Library
M Moser Associates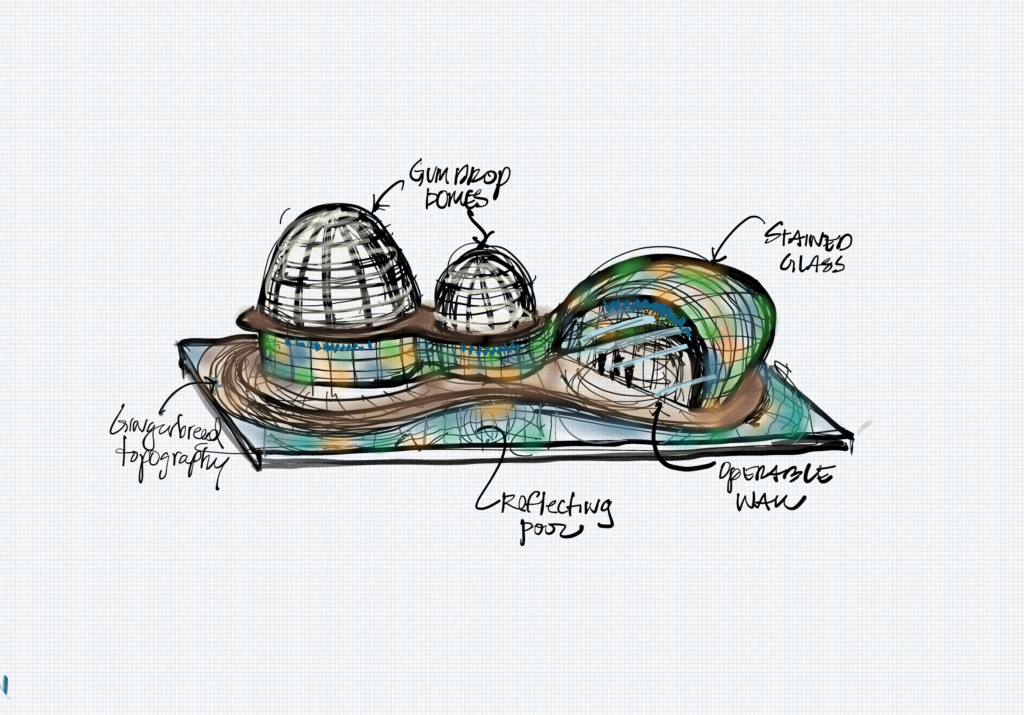 In a world awash with challenges of water scarcity, pollution, and climate-related crises, The Reflective Oasis stands as a beacon of innovation, hope, and contemplation. Our library sits upon a reflection infinity pool and through a cleverly concealed mechanism, it rejuvenates itself, constantly filtering and purifying the water before releasing it gently back into the canal, in our library our focus is reflective learning focusing on the power of knowledge and our open air amphitheater house our book market.

At M Moser, we design and build human-centric workplace environments. By bringing out the best in people and their work, we create space for organizations to transform. We help you uncover potential and reframe what your workplace should be. As a global community of strategists, designers and builders, we thrive on bringing big ideas to life in new ways. People are our priority. Their health, happiness and performance at work is the key to your success.

www.mmoser.com

@mmosersocial
The Venetian Mac-a-Ruins
Museum
Cooper Robertson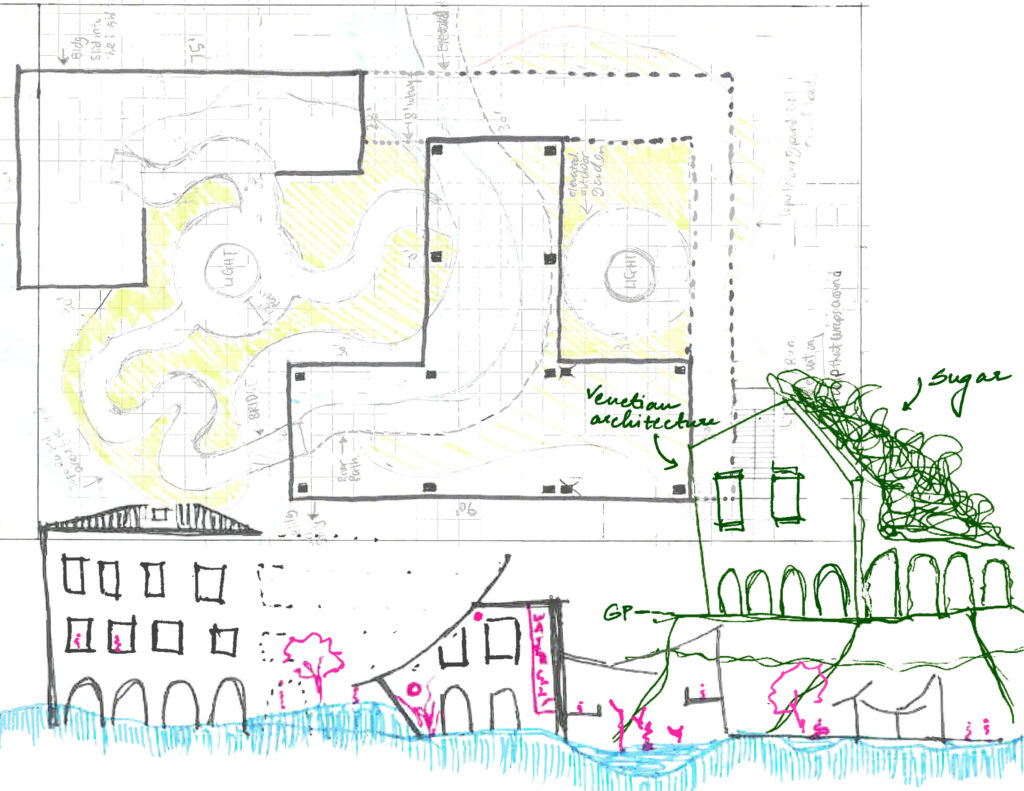 Taking inspiration from the glass-making methods of Venice and the rise of canal waters throughout the city, The Venetian Mac-a-ruins spins rising water levels through adaptive reuse of traditional historic architecture and resilient strategies of the future, creating a sweet symphony of the old and the new. The Museum is a bridge between old and new. The existing site is a historic landmark in GBC which is crumbling due to the rising water levels in the canal. Instead of demolishing the existing, the design aims to take an adaptive reuse approach and add a new modern wing.

Cooper Robertson practices award-winning architecture and urban design with all disciplines working together at a range of scales. We skillfully address large-scale design challenges, shape major cultural and educational buildings, and craft exceptional private residences and resorts.
Case study: Gateway Arch Museum & Visitor Center
In 2018, the expanded and renovated Gateway Arch Museum and Visitor Center opened to the public. The museum forms the cultural centerpiece of a five plus-year-long comprehensive renewal of the U.S. National Park Service's Gateway Arch National Park in St. Louis, Missouri. This project demonstrates that excellent museum architecture, great monumental public art, and well-designed outdoor public spaces can help make great cities. It is a key component of the larger plan to reconnect downtown St. Louis with the Park and the Mississippi Riverfront.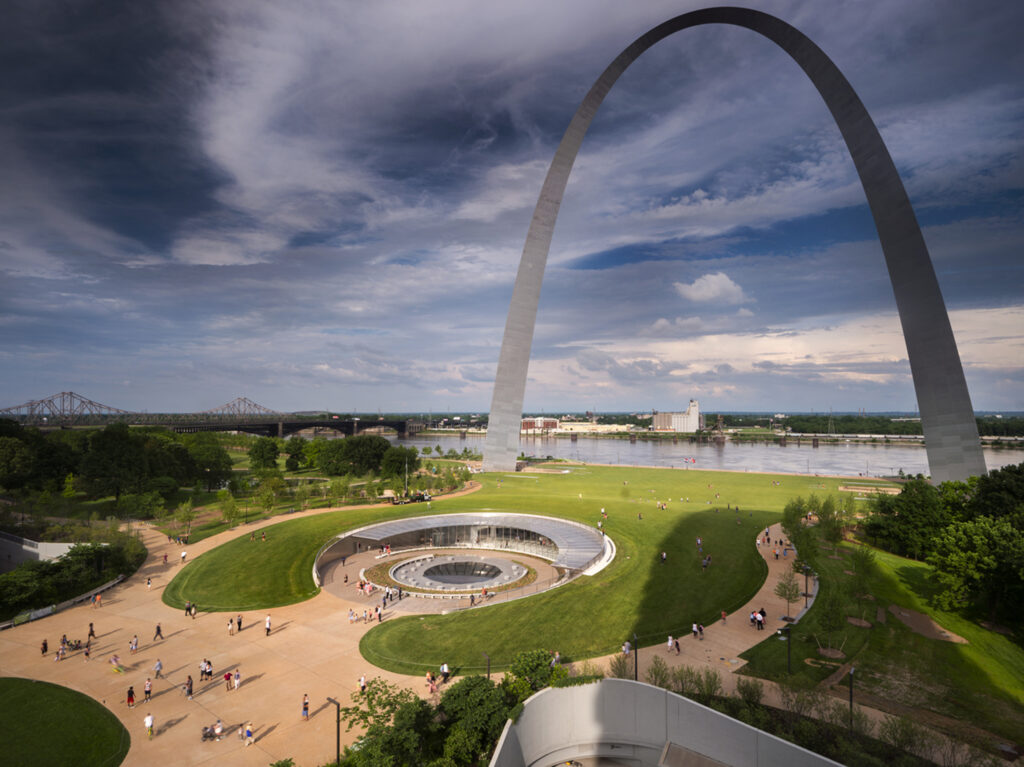 www.cooperrobertson.com

@cooperrobertsonpartners
Waterfall Workshop
Workshop / Cafe
Daniel Frisch Architecture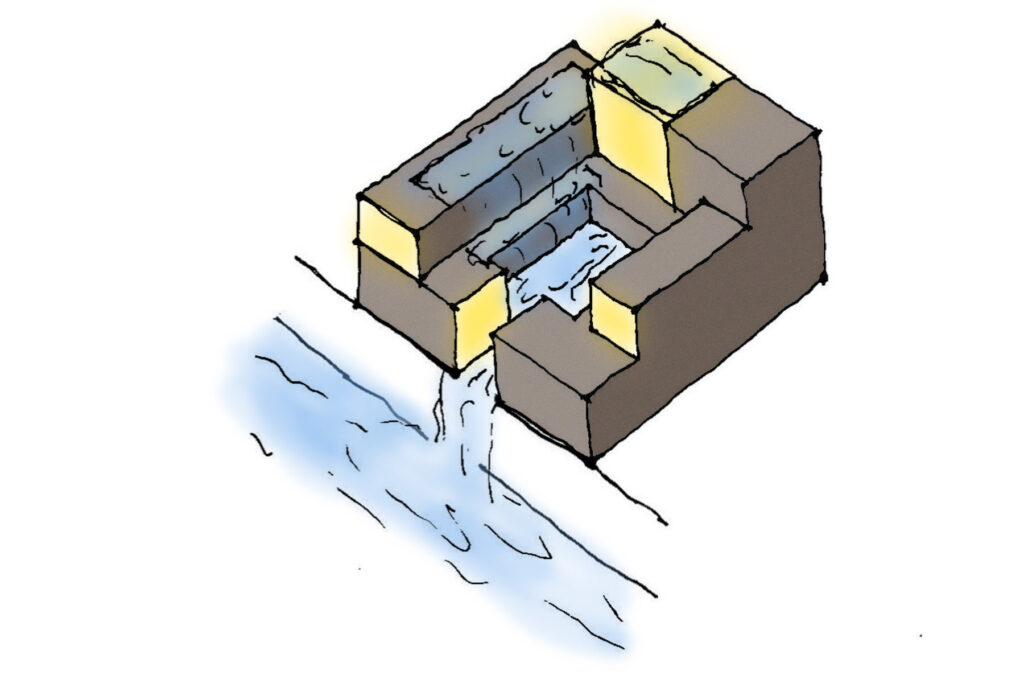 The Waterfall Workshop is designed to house artist studios and a café, while filtering rain water before it is returned to the canal. Each studio has access to light and outdoor space to allow the artists to draw inspiration from the city around them.

Founded in 1991 with its headquarters in Midtown Manhattan, Daniel Frisch Architecture is a full-service architecture firm specializing in high-end residential design for private clients. DFA has completed a vast number of projects in the New York Metropolitan area, as well as throughout the Northeast.
Case study: Connecticut Boat House
Cantilevered over Lake Warmaug, this cottage on the property of the former Birches Inn had been subdivided into two, independent units with little connection to the lake. An extensive renovation was required to reassert its connection to the waterfront. Due to its sensitive siting and prominent location in the community, the structure was stripped to the studs before a new steel exoskeleton was erected to support the expanse of glazing facing the lake in the new double-height gathering space.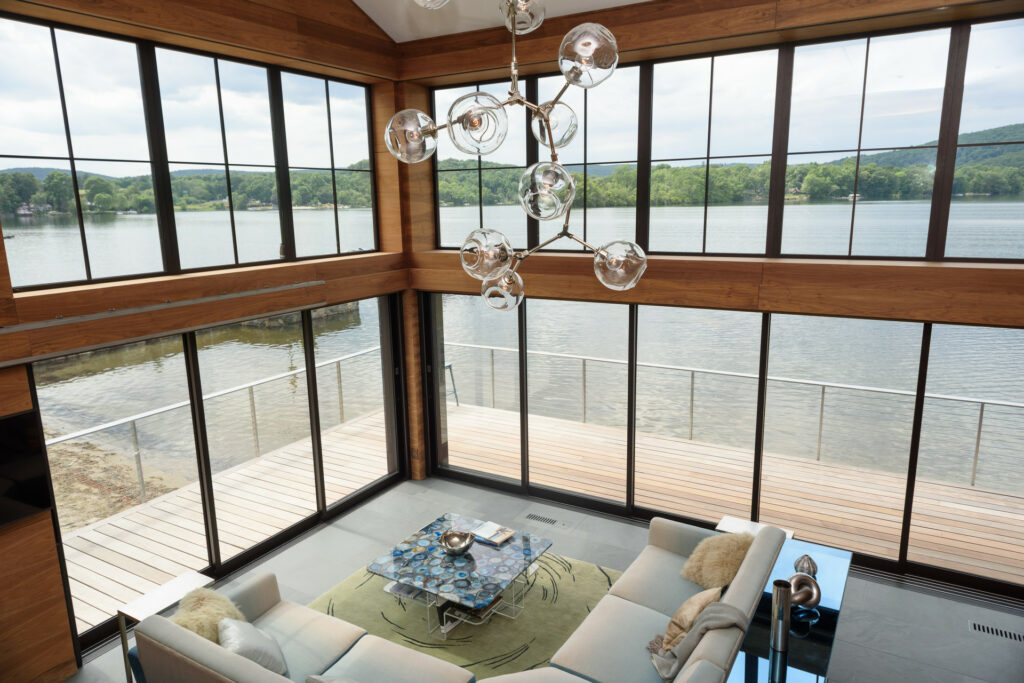 Vertical Urban Factory
Factory
Nina Rappaport with Mari Kroin / Vertical Urban Factory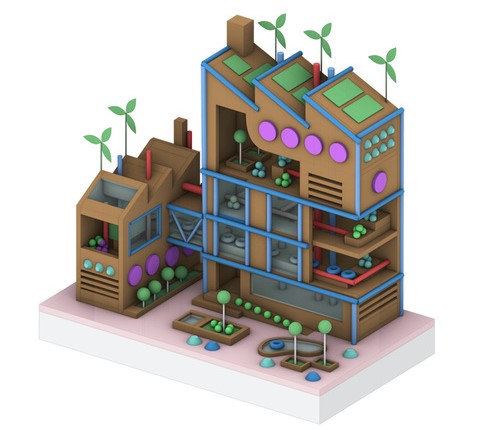 This Vertical Urban Factory, made of gingerbread, sits along a canal integrated with the cityscape. It evokes the past but looks to the future in its sustainable construction and production techniques. The verticality harnesses gravity flow without mechanization and the waste heat of the factory provides energy to others in a form of industrial symbiosis. With its solar panel systems, windmills, and plenty of light and air for the workers, this advanced tech factory, producing micro-mobility devices it is cleaner, greener, quieter, providing new environmental benefits and sustaining job opportunities for the community.

Vertical Urban Factory is a think tank and consultancy founded by urbanist Nina Rappaport that bridges both academic research and advice to architects, urban planners, developers, and city agencies on urban manufacturing space and the value of industry for cities. It focuses on continued use of former industrial sites for manufacturing and ways to build future production spaces. It began with research, seminars, and an architecture studio in 2008. Extensive investigations resulted in an exhibition in 2011, which continues to travel, and four books on the topic of urban manufacturing.

www.verticalurbanfactory.org
Cardamom Houses
Housing
Kai Wilson-Charles
Image coming soon.
The Cardamom Houses cultivate shoreline resilience and celebrate living in nature. They are built from biophilic gingerbread to host aquatic and semi-aquatic organisms, which clean the water or can be harvested, like reeds and mollusks. The façade panels open to form decks, shading, and connectivity, but can be closed during harsh weather to protect the architecture and the creatures living on it from being battered by storm surge and flooding events.
Kai Wilson-Charles is a recent graduate of the Master of Architecture program at Pratt Institute, and a Visiting Assistant Professor at Pratt. Her recent work includes collaborating on a National Science Foundation grant project focused on restoring biodiversity, increasing flood resilience, and connecting communities to the water along urban shores.
Glacier Gallery
Art Gallery
Robert A.M. Stern Architects
Image coming soon
Since the gallery is set between two canals, we created an open ground floor plan to continue the landscape across the base of the site. The structure is balanced on stilts, in case of flooding, and we included terracing for water collection. The double height spaces allow for a range in art instillation sizes.

Robert A.M. Stern Architects chose this structure because historically, their firm has completed a wide-range of cultural projects, including museums and libraries. The plot speaks to their expertise but with an added modern twist.

Explore other climate zones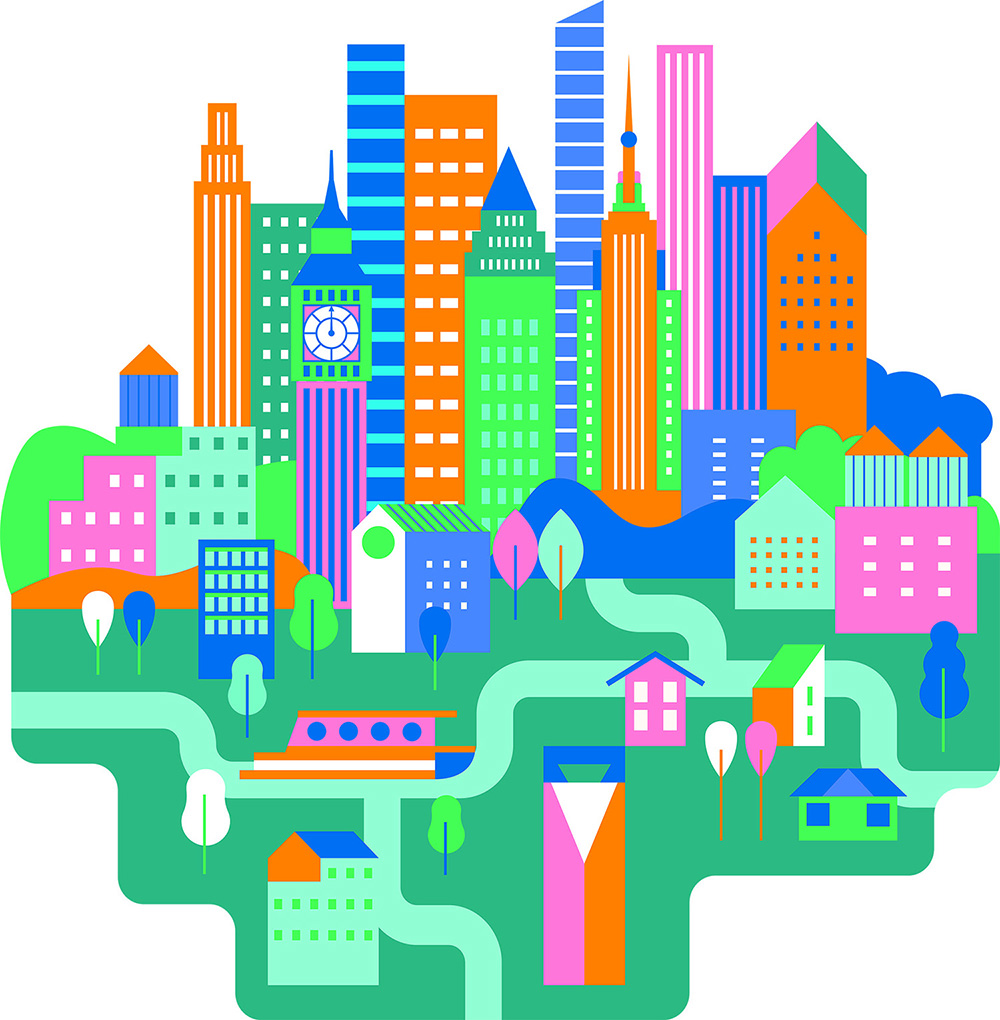 The Museum of Architecture is pleased to debut for the first time outside of the UK its ​hugely popular annual exhibition The Gingerbread City® at
25 Fulton Street in the Seaport
November 18 2023 – January 7 2024
THANKS TO OUR SPONSORS
---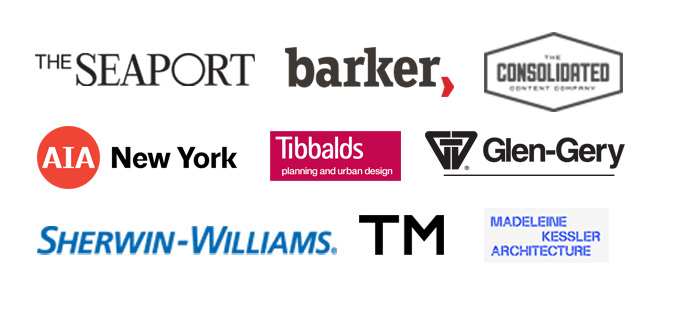 BOOK YOUR EXHIBITION TICKET
​Join one of our festive gingerbread house-making workshops taking place every day during the exhibition. Advance booking is essential.
BOOK YOUR WORKSHOP TICKET