BA(Hons), MArch
Architectural Assistant +
co-founder of Muslim Women in Architecture (MWA)
I have always been interested in the practical application of creative thinking as a way of solving real life situations. For as long as I can remember, my curiosity towards the arts has been constantly expanding. I grew up seeing my Mum work on so many interesting and creative projects at home, and I remember how passionate she was about them. She was the one who inspired me to have an appreciation and curiosity for the arts.
Throughout my childhood, I spent a lot of time going to after school clubs for something new and creative, because the one-hour art classes I had during the week at school were never enough. My weekends and school holidays were spent making doll houses out of cardboard boxes, because I was never happy with the ones from the stores. I remember breaking a few doll houses over the years trying to "renovate" them. I found great joy making these makeshift houses during my free time. I could easily spend hours cutting, gluing, and painting all these cardboard pieces. Despite the huge mess I would constantly make, my parents were always so supportive of my creativity.
​I spent a few years studying abroad in Bangladesh in an English medium school where I attained the country's highest mark in the GCE O-Level Art and Design examination. This was a pivotal moment for me, as it gave me the motivation and confidence to consider a career in architecture. A big part of why I went into architecture was when I realised the poverty and economic inequality in Bangladesh was most noticeable to me in the architecture. It made me realise how the practical application of creative thinking through architecture could possibly help improve the lives of so many people there.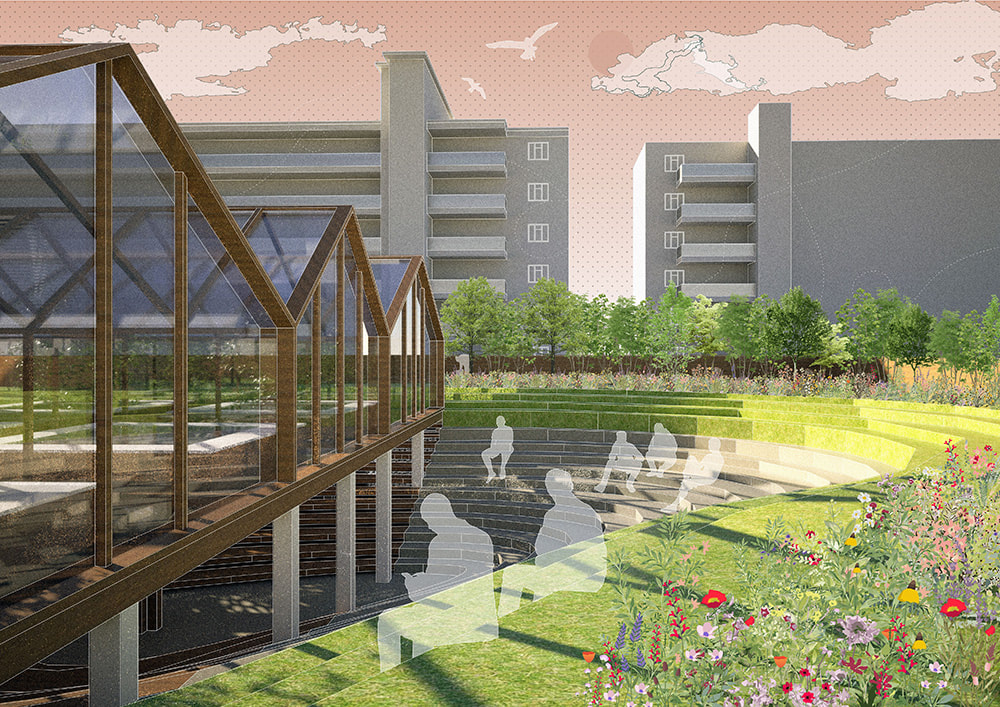 My architectural training at the University of Westminster was great, and I was very passionate about the projects I worked on at university. These projects allowed me to gain valuable insights on social, political, and environmental issues and how they could potentially be tackled through architectural interventions. My ultimate objective was to have the ability to create positive change, on any scale. After university, my confidence in architects' ability to build a better future only heightened.
Working at ArchitectureDoingPlace with principal architect David Ogunmuyiwa has made a huge difference for me. A British Nigerian architect, David is aware of the challenges many emerging creatives face today and he has actively expanded opportunities and collaborates with people who represent all of London's backgrounds.
A true representation of how diverse the built environment industry is so important for the young persons of colours who are passionate about starting a career in the field and also those who are already in the industry. For me personally, I suffered from imposter syndrome very early on in my career, simply because I did not think I belonged in the industry. I was not exposed to many POC architects, and so I genuinely did not know about them.
Working for David has exposed and connected me to so many people from marginalised communities within the industry. I understand the importance of a community for an individual, but even more so for a POC in an industry like architecture and the built environment.
Last summer in the midst of the pandemic, I cofounded an initiative with Rim Kalsoum and Zahra Mansoor, called Muslim Women in Architecture (MWA). The co-founders and I met at the University of Westminster, and after years of talking about how there is a lack of representation in the industry, this initiative was formed. We created our own space to celebrate Muslim women who are currently in the architecture industry, in hopes to inspire others, but also provide these women a safe space to open up. MWA kicked off with a series of online events for London Festival of Architecture (LFA) 2020, on the theme of safe spaces. The response was incredible, and our online community has been growing very quickly. We had Muslim women joining our events from the UAE, Pakistan, Lebanon, South Africa, Canada, and America. We unpacked a lot through these events, and have had some fruitful discussions as a result.
MWA has many more interesting events and collaborative work lined up for the months to come. I hope MWA continues to grow this incredible online community we have formed, that actively expands opportunities and connects people within the architecture industry. Ultimately, I hope MWA has the ability to inspire more young women to realise why they should go into architecture one day.
​
Muslim Women in Architecture (MWA)
This Space is Ours – London Festival of Architecture 2020
​
​You can find out more about ArchitectureDoingPlace by visiting their website here.